Geoff Wheat
An Appreciation

We are sorry to report that Geoff Wheat, the well known barge operator, died on Monday 7th January aged 70 years. Geoff was brought up in Manchester, winning a scholarship to Manchester Grammar School where his interest in canals was sparked by a trip on the Royalty class narrow boat 'William' which was owned by the leaders of one of the scout groups of which Geoff was a member. He studied mechanical engineering at Birmingham University and during a vacation in 1964 he and several friends worked for Willow Wren Canal Transport Services doing one or two round trips with a pair of boats – for which he said he was never paid! In the summer of 1965 he borrowed 'William' with student friends to cruise from Preston Brook to Limehouse and back via Birmingham and Oxford. During a sabbatical year at university he worked on a tramway in Heidelberg, Germany. Gaining an engineering degree he joined British Railways, initially at Swindon works, where he had won a post graduate apprenticeship, and where he worked on the Western Region's diesel hydraulic locomotives. These were being phased out as 'non standard' so he then transferred York carriage works before moving finally to Norwich.
Interest in the canals had developed and in 1967 Geoff had purchased a Grand Union / T&S Element motor narrow boat 'Princess Anne', (ex 'Plato') from Elements. He had it shortened to pass through the L&L Canal locks. With a MIMechE qualification he then joined the Manchester Ship Canal Co as an assistant mechanical and electrical engineer looking after locks, swing bridges, quay cranes, tugs and barges and road vehicles. In 1971 Geoff purchased the wooden Leeds & Liverpool short boat 'Frank' and in May 1971 he helped form a new carrying company, Northern Counties Carriers Ltd, along with Alan Holden and Chris Oatway to revive carrying on the Leeds & Liverpool and Bridgewater Canals. They started with camping cruises, initially using 'Frank', but then purchased the L&L short boat 'Irwell', and this, along with Derek Bent's 'Weaver' and David Lowe's 'Wye', formed a useful fleet for both camping and cargo carrying. First cargo was 52 tonnes of steel from Leeds to Liverpool in April 1973, followed by concrete pipes, and then from November 1974 grain screenings (later maize) from Coburg Dock (later Seaforth) Liverpool to Selby, and Manchester, though 'Irwell' only made three trips altogether. Geoff then left the MSC Co and turned his attention to retail coal delivery, which had been developed by Ashby Canal Transport around 1970 but which was a novelty on the L&L and Bridgewater canals at that time. 'Frank' had been disposed of in February 1974 but Geoff then purchased the L&L short boat 'Lune' in 1975 and generally used this craft or 'Irwell', loading coal in bulk at Bickershaw Colliery, Plank Lane (after the Wigan and Trafford Park traffics had finished), or sometimes anthracite from Beatties' yard in Castlefield, bagging up en route as was the custom at that time. 'Irwell' was still used for odd carrying jobs sub-contracting to Apollo Canal Carriers Ltd e.g. Whitley Bridge to Selby (barley), Besthorpe to Shipley (aggregate), Goole to Nottingham (wire) and (in 1978) Esholt to Knostrop and Goole, though for this last contract leased to Apollo Canal Carriers Ltd (effluent, carried in a large tank). Geoff also found work for 'Irwell' for canal contracting – and on one unfortunate occasion when 'Irwell' was being used in connection with bridge demolition on the A&CN, the contractors worked too enthusiastically and a large piece of bridge dropped into the hold, through the floor, and 'Irwell' sank rapidly! The upside was that 'Irwell gained a part new bottom as a result.
Geoff sold 'Princess Anne' in 1977. Carrying on the L&L finished in 1982, while camping boating and contracting work had lessened so the other boats were eventually sold ( 'Lune' in 1990, and 'Irwell' in 1992) though the company remained in business until 1995. In 1986 Geoff had moved to a riverside flat in Leeds, in the appropriately named 'Chandlers' development. He worked on the larger river barges for R&C Oatway, Les Taylor and others as a mate and also did some engine repair work. Then, with colleagues, he seized an opportunity provided when British Waterways closed its carrying and freight operations and formed a new water freight company Water-Link Ltd which purchased a fleet of BACAT and ex BW dumb barges plus a tug, and carried cargo, mainly between Goole and Rotherham – wire coils, cullet and fluorspar, returning with export steel for Russia. Because of an internal dispute between directors, and with British Waterways, the company was moved south to the Thames and for a while Geoff then worked as a stockholding assistant in a Leeds bookshop. He then formed the Northern Tug & Barge Co in 1993 with the late Richard Barnett (a former Water-Link director); they won the contract to carry aggregate between a new field below Thurmaston lock and Syston using Bantam tugs and 60 tonne pans, thus continuing a traffic started in 1976. This ended in 1996 when the pit was worked out.
Geoff's next venture was to help form Humber Barges Ltd along with former directors of Water-Link Ltd. Initially the plan was to acquire the ex BOCM fleet of 250 tonne 'Selby' craft and operate them in twos with one craft having a larger engine and the other pushed. In the event David Lowe purchased two of these craft in 1999 and, with Geoff's assistance, refurbished them. They were leased to HBL and, with Geoff as captain, were used for general cargo carrying, for example fertilizer from New Holland to West Stockwith, and Soya beans from Hull to New Holland but eventually settled down to running aggregate from Rampton and Besthorpe to Leeds and Whitwood for Lafarge Aggregates. Humber Barges then purchased two 500 tonne tankers from Whitakers in 2000 and Geoff masterminded the refurbishment of 'Fusedale H' which was brought into use as an aggregate and general cargo carrying craft in 2003. Geoff became Operations Director of Humber Barges Ltd and took over as skipper of 'Fusedale H' - this was to be his swan song, and Geoff became a familiar and popular figure in the wheelbox of his beloved barge.
Geoff assisted the Commercial Boat Operators Association, giving his time freely to work with colleagues and MCA on vessel standards and Boatmaster qualifications, and to advise on other matters whenever asked.
Geoff was diagnosed with cancer of the jaw in 2012 and reluctantly had to step down as skipper of 'Fusedale' vowing to return as soon as he was well again. He had an operation which appeared to be successful, making a remarkable recovery – aided by a long period of recuperation at friends Gerald and Pauline Whiteley's home in Barnoldswick. He returned home to Leeds and was becoming active again, planning improvements to 'Fusedale H' and even driving his van. But he complained of difficulties in breathing and eventually this was to prove fatal. He was found lifeless by his friends Gerald Whiteley and Christine Oatway at his home on Monday 7th January.
Geoff had been a member of the Inland Waterways Association, the Leeds & Liverpool Canal Society and the Boat Museum Society. He was an authority on Leeds & Liverpool boats, authoring two booklets on the subject ('Leeds & Liverpool Canal Craft' and 'Canal Transport Ltd'), along with a booklet on the Bridgewater Canal ('On the Duke's Cut'). He had interests outside waterways – he had been a long standing member of the Ffestiniog Railway Society, but was also interested in buses, trams, and trolleybuses. He enjoyed music, especially jazz, and the arts, and was a patron of the Mikron theatre company. He was also an enthusiastic campanologist. He enjoyed travel, home and overseas, and especially walking. After his operation he had started walking the Leeds & Liverpool Canal.
Geoff was a quietly spoken, courteous, person and was always very precise in his speech and writing. He did not suffer fools gladly and would not hesitate to correct anyone in respect of a matter of fact or grammatical error. With his engineering background he could turn his hand to most technical tasks whether it be engine maintenance, electrical, joinery, hydraulic systems or whatever – useful on a barge! He was scrupulous in business matters and expected the same from others. He set himself (and others) very high standards, was an exacting taskmaster and didn't delegate easily. He was generous and would help anyone out of difficulty and was well liked and respected by barge crews and waterways staff as well as pleasure boaters with whom he came into contact. He had a quiet zest for life, and a tremendous sense of optimism which inspired others. He will be much missed by all who knew him.
David Lowe January 2013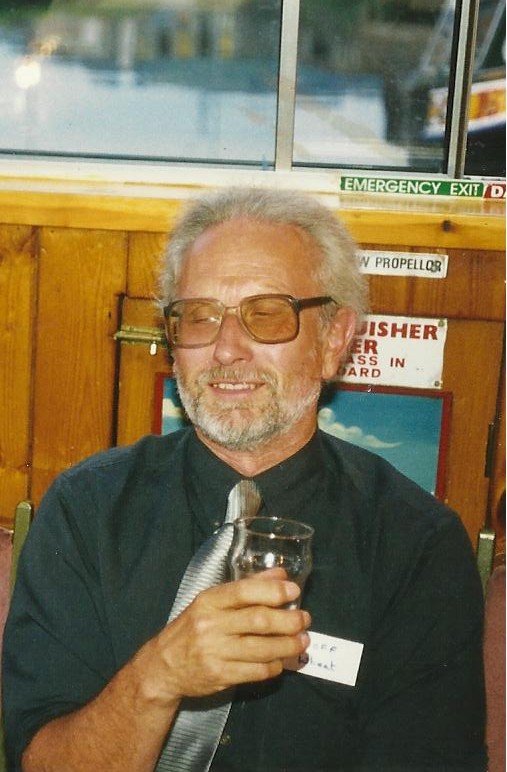 Geoff Wheat 1942 - 2013
---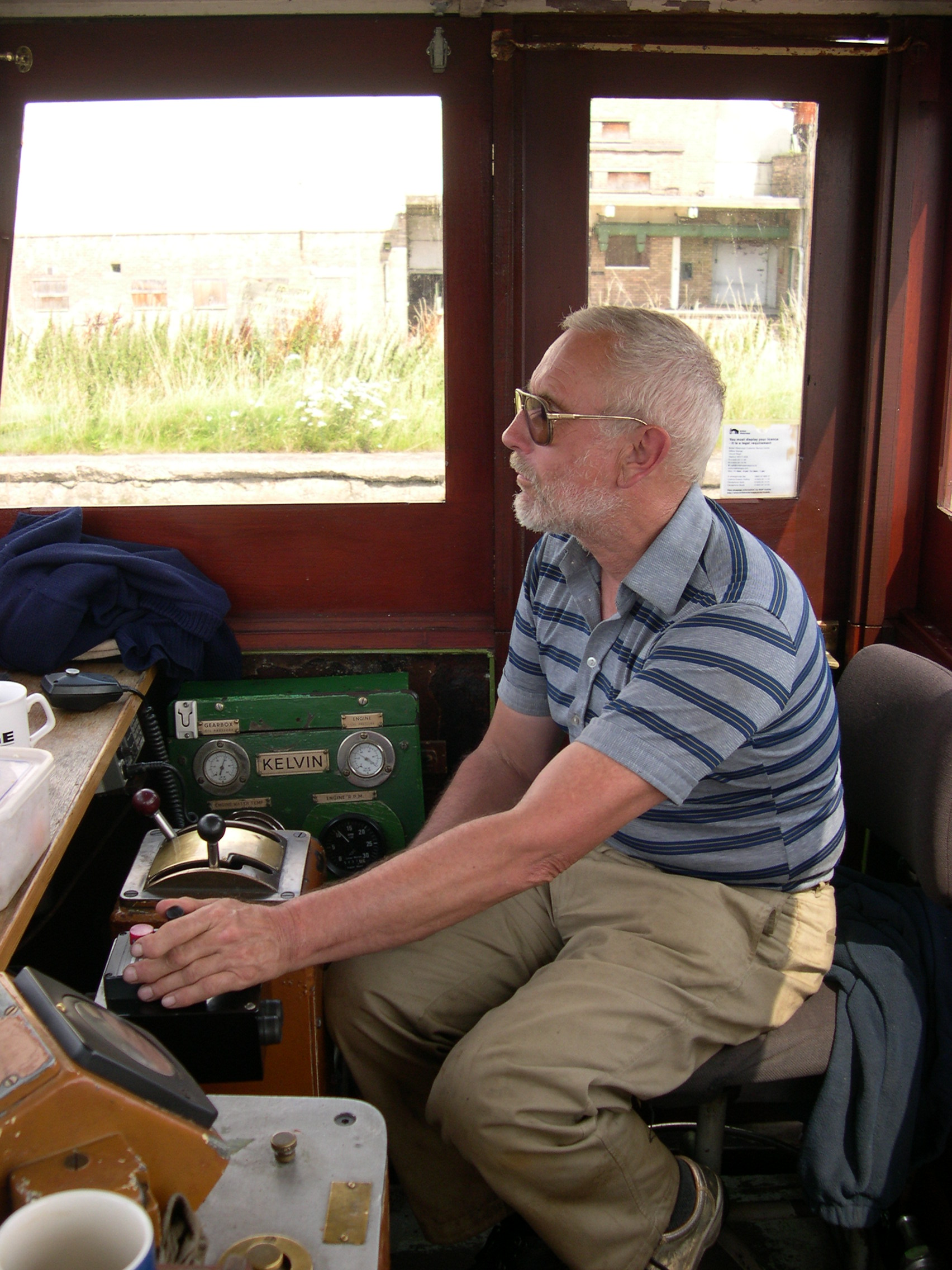 Geoff in Fusedale's wheelbox
---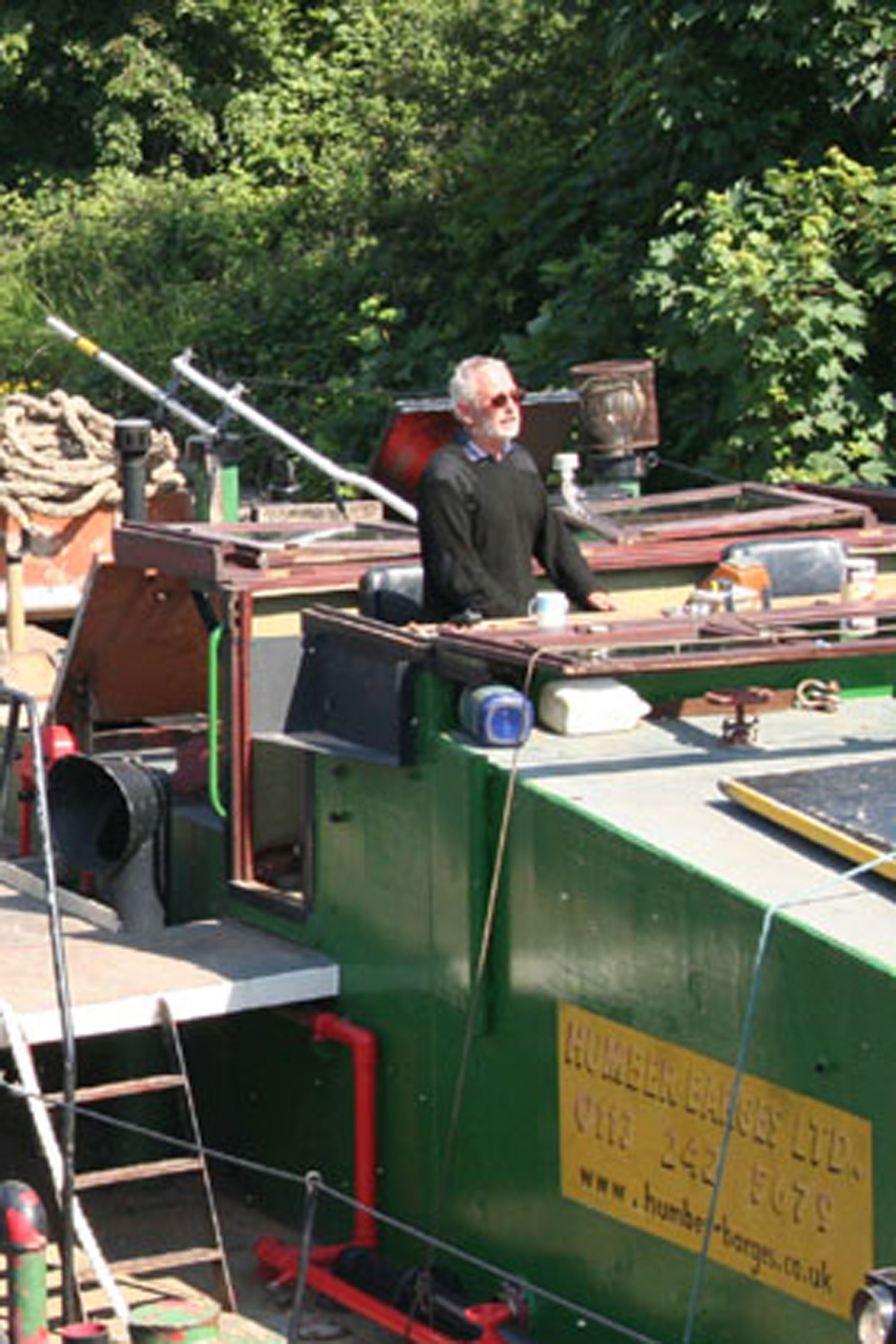 ---

Geoff on a Fusedale trip

---
Contact Us
For more information on any aspect of Humber Barges please contact us on:
Telephone:

Christine Oatway, Managing Director: 0757 2847006 (24 hrs)
David Lowe, Director: 07785 502478 (24 hrs)
Gerald Whiteley, Director: 01282 812456


Email:
Humber Barges
Humber Barges Ltd:
95 Denby Dale Road, Wakefield, WF2 8DJ
---