New Contracts

2020 NEW CONTRACT FOR HUMBER BARGES LTD

Humber Barges Ltd is pleased to be assisting our colleagues at Branford Barge Owners with the carriage of sea dredged aggregate from Albert Dock Hull to Leeds for AC Marine Aggregates Ltd. The seeds of this movement were sown as long as fourteen years ago, but it was five years ago when the first load of sea dredged grit sand was landed in Hull for local distribution. Today the time is right to move into the Leeds market utilising space at the Canal & River Trust's Leeds Depot at Knostrop. Using marine aggregate avoids the need to open new or extend existing land based quarries. The material is very good quality and available in almost unlimited reserves; using inland waterway transport is a truly 'green' alternative to road haulage (about 25% of the emissions plus savings on particulates from road, tyres and brake dust, congestion and accidents) thus providing an environmentally friendly complete solution. Final delivery in the Leeds area is by modern diesel trucks although a waterside receiver is in prospect.

Branford Barge owners took the first four loads to Leeds, then 'Fusedale' loaded 280 tonnes in Albert Dock Hull from stockpile on Monday 26th October, along with Branford's 'Farndale H' (350 tonnes) and both vessels discharged on Thursday 29th (when the material was required). It's expected that each vessel will undertake one load a fortnight until demand increases. Once some dredging of the waterway has been completed both vessels will be able to load to maximum capacity 450-500 tonnes.

Thanks are due to the Crown Estate (owners of the material), Leeds City Council (planners) and all others involved for support and assistance in getting this traffic off the ground, and of course to AC Marine Aggregates Ltd for investing in loading and discharge plant in Hull and Leeds and for taking the initiative in the first place.


http://www.acaggs.com/about-ac-aggregates-yorkshire/ac-marine-aggregates-yorkshire


Loading at Hull Docks. Photo by Maik Brown




Albert Dock Lock. Photo by Maik Brown




Coming up the River Ouse. Photo by D. Longbottom




At Crow Croft Bridge. Photo by Andy Horn




At Heck Bridge. Photo by Maik Brown




Entering Whitley lock. Photo by Maik Brown




Leaving Ferry Bridge Lock and passing under the old A1 bridge
Photo by Maik Brown






Leaving Bullholme, Castleford. Photo by Maik Brown





Fusedale and Farndale at Knostrop. Photo by Maik Brown




Unloading at Knostrop. Photo by Andy Horn

______________________________________________________________________________________________________________________

In 2008 the Company was asked to assist with towing 'Leicester Trader' (a historic River Trent dumb barge) from the Aire & Calder to Newark where it will be refurbished and preserved as a floating waterway museum under the direction of Les Reid.
Humber Barges were very pleased to sponsor this movement,
seen below on the River Trent on 30th June.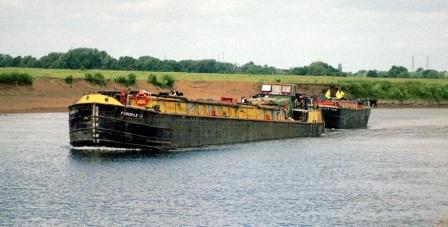 Photo by Malc Slater

On Wednesday 24th September 2008 Fusedale H loaded 315 tonnes of gypsum at Rampton Wharf (Cottam Power Station) on the River Trent for delivery to the new Lafarge plasterboard factory at Ferrybridge. This trial trip was principally to test the loading arrangements at Rampton (former aggregate wharf) and also to determine how much gypsum could be loaded in a vessel designed to carry aggregates, without further 'opening out' of the hold.

Discharge was undertaken, on this occasion, at Kellingley Colliery, pending provision of facilities at Ferrybridge Power Station wharf which is adjacent to the new factory.

It is hoped this movement will become a regular feature, complementing rail deliveries.
(All photos by Malc Slater)

---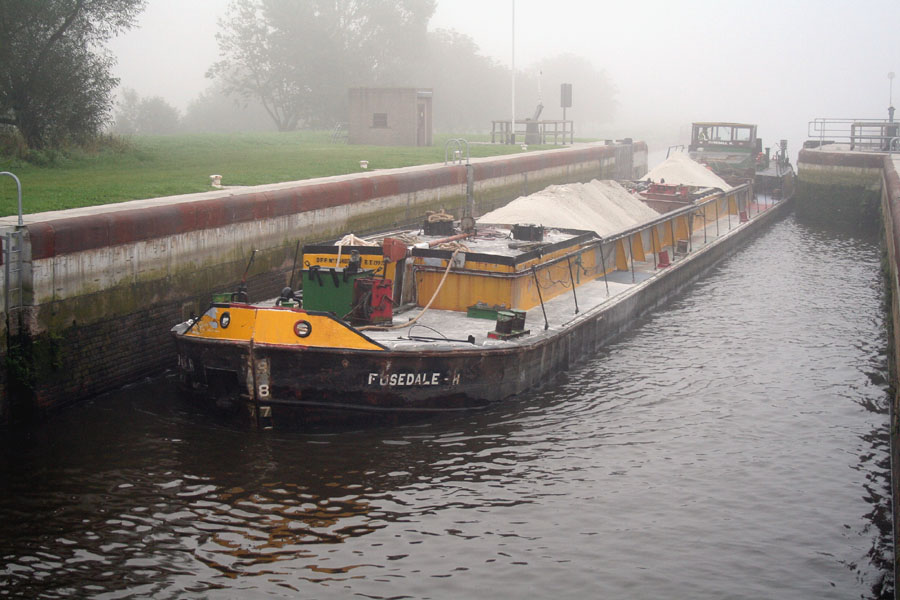 Fusedale H entering Ferrybridge lock on the Aire & Calder Navigation loaded with gypsum.
---
Three pictures showing Fusedale H arriving at Kellingley Colliery wharf and being discharged using a mobile crane with clamshell grab:
---
Contact Us
For more information on any aspect of Humber Barges please contact us on:
Telephone:

Christine Oatway, Managing Director: 0757 2847006 (24 hrs)
David Lowe, Director: 07785 502478 (24 hrs)
Gerald Whiteley, Director: 01282 812456


Email:
Humber Barges
Humber Barges Ltd:
95 Denby Dale Road, Wakefield, WF2 8DJ
---