New Contracts

2018: Humber Barges Ltd is working with partners to re-start the carriage of aggregates on the Humber and connecting waterways, and to develop a 'Port of Leeds' at Stourton.
---
In 2008 the Company was asked to assist with towing 'Leicester Trader' (a historic River Trent dumb barge) from the Aire & Calder to Newark where it has been refurbished and preserved as a floating waterway museum under the direction of Les Reid.
Humber Barges were very pleased to sponsor this movement,
seen below on the River Trent on 30th June.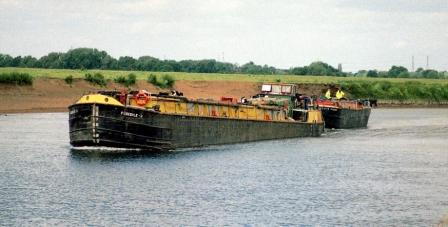 Photo by Malc Slater

On Wednesday 24th September 2008 Fusedale H loaded 315 tonnes of gypsum at Rampton Wharf (Cottam Power Station) on the River Trent for delivery to the new Lafarge plasterboard factory at Ferrybridge. This trial trip was principally to test the loading arrangements at Rampton (former aggregate wharf) and also to determine how much gypsum could be loaded in a vessel designed to carry aggregates, without further 'opening out' of the hold.

Discharge was undertaken, on this occasion, at Kellingley Colliery, pending provision of facilities at Ferrybridge Power Station wharf which is adjacent to the new factory.

It is hoped this movement will become a regular feature, complementing rail deliveries.
(All photos by Malc Slater)

---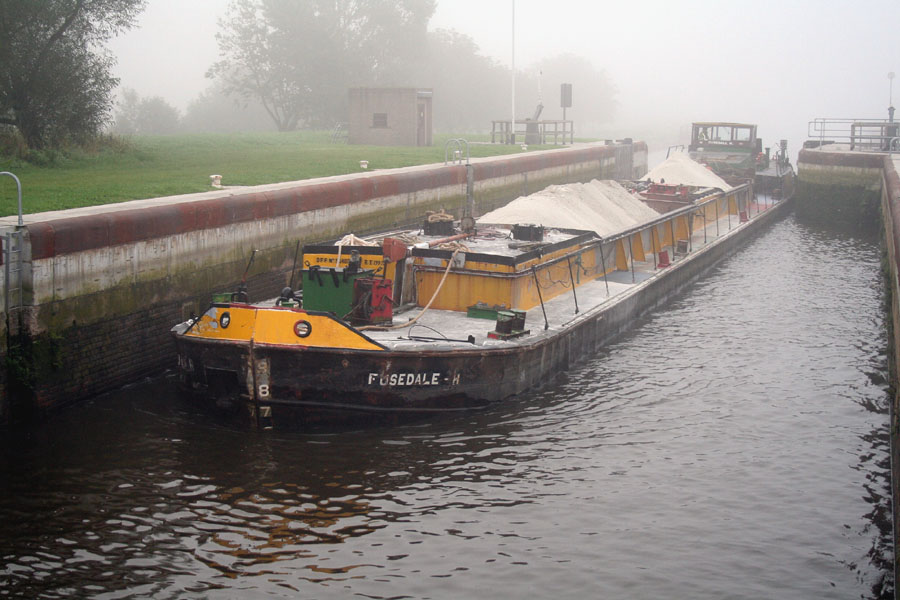 Fusedale H entering Ferrybridge lock on the Aire & Calder Navigation loaded with gypsum.
---
Three pictures showing Fusedale H arriving at Kellingley Colliery wharf and being discharged using a mobile crane with clamshell grab:
---
Contact Us
For more information on any aspect of Humber Barges please contact us on:
Telephone:

Christine Oatway, Managing Director: 0757 2847006 (24 hrs)
David Lowe, Director: 07785 502478 (24 hrs)
Gerald Whiteley, Director: 01282 812456


Email:
Humber Barges
Humber Barges Ltd:
95 Denby Dale Road, Wakefield, WF2 8DJ
---