News Page
This is where you will find News of what is happening at Humber Barges



Leeds Traffic Re-commences

Following repairs to the canal near Goole Fusedale H is once again making deliveries of sea dredged sand from Albert Dock, Hull to Knostrop Depot, Leeds for AC Marine Aggregates Ltd.

Demand is increasing and it's expected that additional craft will join Fusedale H and fellow operator Branford Barge Owners' Farndale H on this route, with the potential for additional wharves and routes to follow.


| | |
| --- | --- |
| | |
| Fusedale H in Ferrybridge Lock | Fusedale H leaving Ferrybridge Lock |


4th October 2021






Fusedale Docked for Survey

Taking the opportunity of a break in deliveries to Leeds, Fusedale H was booked into the MMS dry dock in Hull during February for its periodical insurance out of water inspection. A small number of minor repairs were carried out and the hull blacked. Thanks are due to our surveyor Nigel, to Laurie, Nick and Richard for help with blacking etc, and to the MMS team for making us welcome.

Once repairs to the Aire & Calder Navigation are complete we hope to be running up to Leeds again.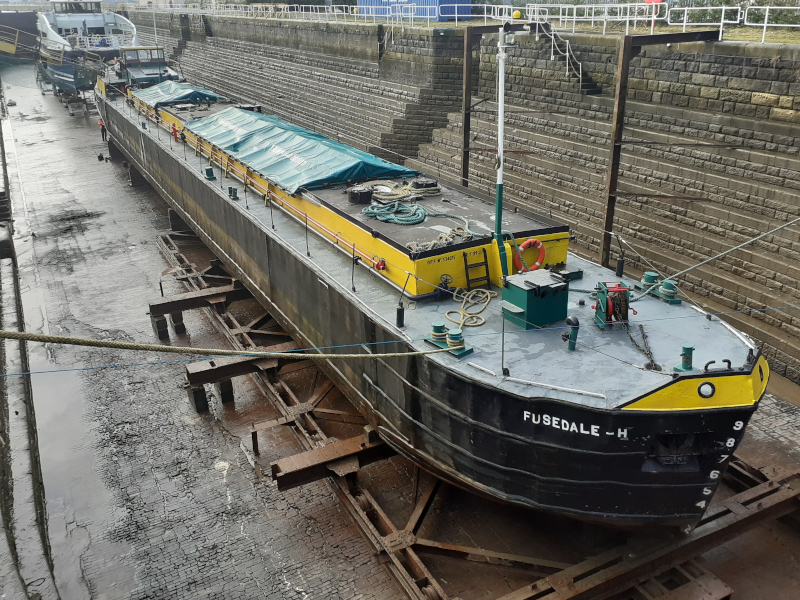 Fusedale in dock prior to work commencing. Photo
courtesy

David Lowe

Fusedale being washed with high pressure hose. Photo
courtesy

Laurence Pooley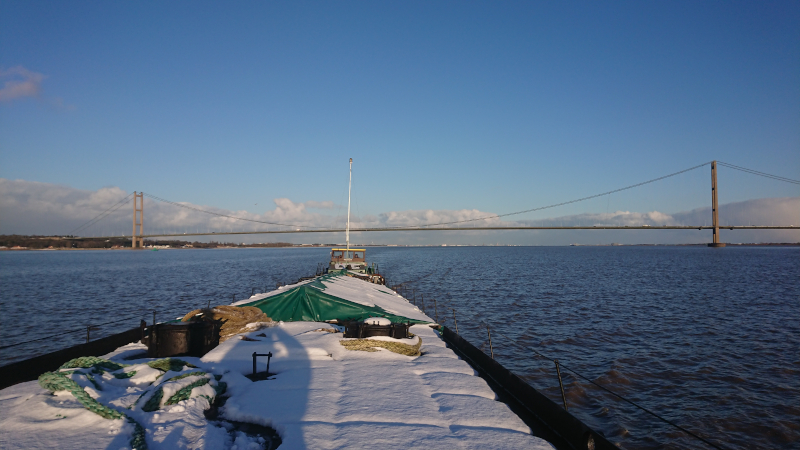 Fusedale on the Humber returning from Hull to Goole.
Photo
courtesy

Laurence Pooley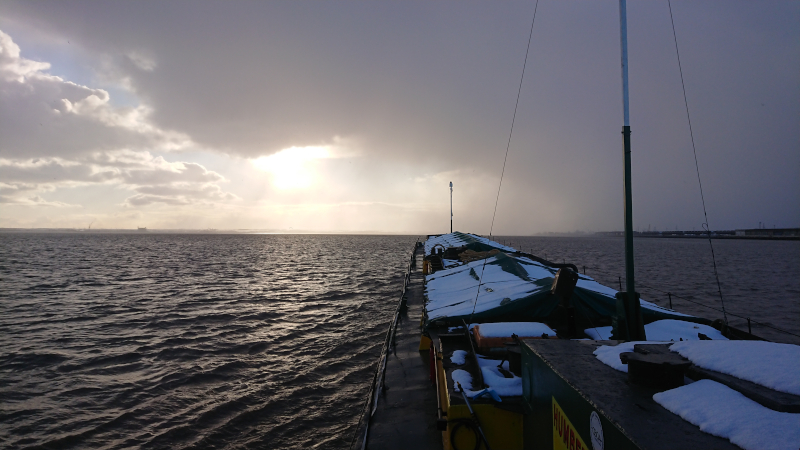 Fusedale on the Humber returning from Hull to Goole.

Photo

courtesy

Laurence Pooley



Leeds New Traffic

Details about the new traffic, together with pictures can be found on the New Contracts Page

11th November 2020


Humber Barges Ltd welcomes Leeds City Council Chief Executive's endorsement of new traffic



Commenting on the news that sea dredged aggregates have been delivered by barge from Hull to Leeds for the first time, Tom Riordan, Leeds City Council's Chief Executive said:

"Using barges to transport goods brings with it a range of extremely positive environmental benefits, which is why as a council, we've worked incredibly hard to both protect and safeguard our waterways and wharves in Leeds through planning policy.

"It is great therefore to see this new barge traffic route carrying marine dredged aggregates now in operation from Hull to Leeds, This type of announcement will we hope encourage more businesses and organisations that are committed to reducing their environmental footprint, to investigate the possibility of transporting more of their goods by barge on our waterways in the future. Not only will one barge journey take the equivalent of 18 articulated lorries carrying 28 tonnes off the road on a daily basis which is huge, it will also play its part in reducing carbon emissions and air pollution. If we are to make Leeds carbon neutral by 2030, there is no doubt that alternative and greener transport options such as barges are going to have an important part to play."

"We welcome the support from Tom Riordan", said Humber Barges Ltd director David Lowe. " Leeds have been great with their planning policies supporting water freight and I'm delighted this has borne fruit"

14th October 2020.




Fusedale H prepared for new traffic




Fusedale H has been completely repainted along with various upgrades and improvements and is now ready to start moving marine aggregates from Hull to Leeds in association with Branford Barge Owners for AC Marine Aggregates Ltd.

http://www.acaggs.com/about-ac-aggregates-yorkshire/ac-marine-aggregates-yorkshire/

This long-planned traffic had been delayed due to a lack of available wharfage in Leeds, but a space has been found at the former British Waterways Leeds depot (Knostrop) courtesy the Canal & River Trust and previous occupiers Lili Waste . COVID-19 then intervened but the first barge is due to discharge in Leeds on Tuesday 22nd September.

We are looking forward to moving our first load for AC Marine Aggregates and to making a contribution towards reducing greenhouse gas and emissions in West Yorkshire.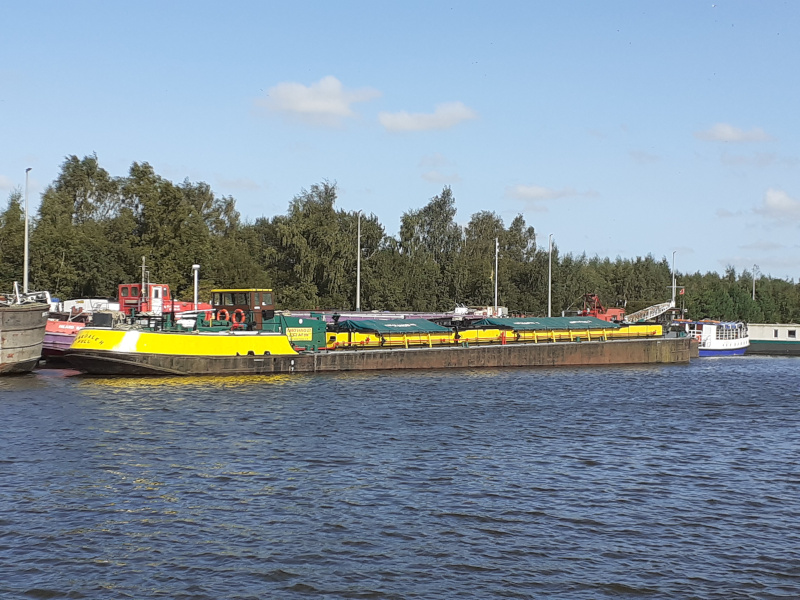 Fusedale H loaded with about 200 tonnes of ballast. Photo courtesy David Lowe.

14th September 2020

Humber Barges Ltd welcomes local authority financial support for new Leeds wharf


Humber Barges warmly welcomes the news that the West Yorkshire Combined Authority ("WYCA") has agreed to provide £3.17m towards the building of a new wharf at Stourton on the Aire & Calder Navigation on the outskirts of Leeds as part of the Port of Leeds project.
For some time, the Canal & River Trust, strongly encouraged by the Commercial Boat Operators Association, has been reviewing building a new wharf at Stourton – with room for either one or two barges to be tied alongside at the wharf (depending upon demand). The site is well located in logistics terms, being close to the motorway and also rail connections.
The new wharf would be able to handle sea-dredged aggregates brought by barge to Leeds from the Humber. Steel and timber products are also possibilities, along with other goods imported via the Humber ports. With modest improvements to the Navigation, barges would be able to bring containers to Stourton, thus relieving road traffic congestion on the M62 and reducing pollution. Existing barges can carry up to 550 tonnes each - the equivalent of 27 lorries carrying 20 tonnes. With the navigational improvements, it would be possible to bring across from Europe Euro-Class 11 barges which can take 650 tonnes.
David Lowe, CBOA's chairman and Director of Humber Barges Ltd, said "This is very welcome news and shows the commitment of the local authorities to seize the opportunity of doing something to take traffic off the roads – to the great benefit of their local people."
Steve Higham of the Trust said "The Canal & River Trust is very grateful to WYCA for their encouragement and support. This provides the opportunity for a new dawn for the freight use of Yorkshire's waterways. This fits in very well with the Trust's work with Transport for the North in identifying ways for moving freight in the North."
16th July 2018

For further information, contact David Lowe at d.lowe@cboa.org.uk
Fusedale gets a Makeover
In between contracts our 500 tonne barge 'Fusedale H' has received quite a bit of attention including an engine overhaul. The T8 Kelvin now runs very happily on all eight cylinders thanks to excellent work by Karl Acaster. We've installed central heating in the crew quarters and wheel house and this has much improved conditions- thank you to Dave, Jim and Andy for help with this. In preparation for running to Hull later this year we are providing hatches and covers of novel design, plus a second mast and other ancillary equipment. Finally 'Fusedale' has had a new coat of paint; almost completed, it's a mammoth task on such a large vessel!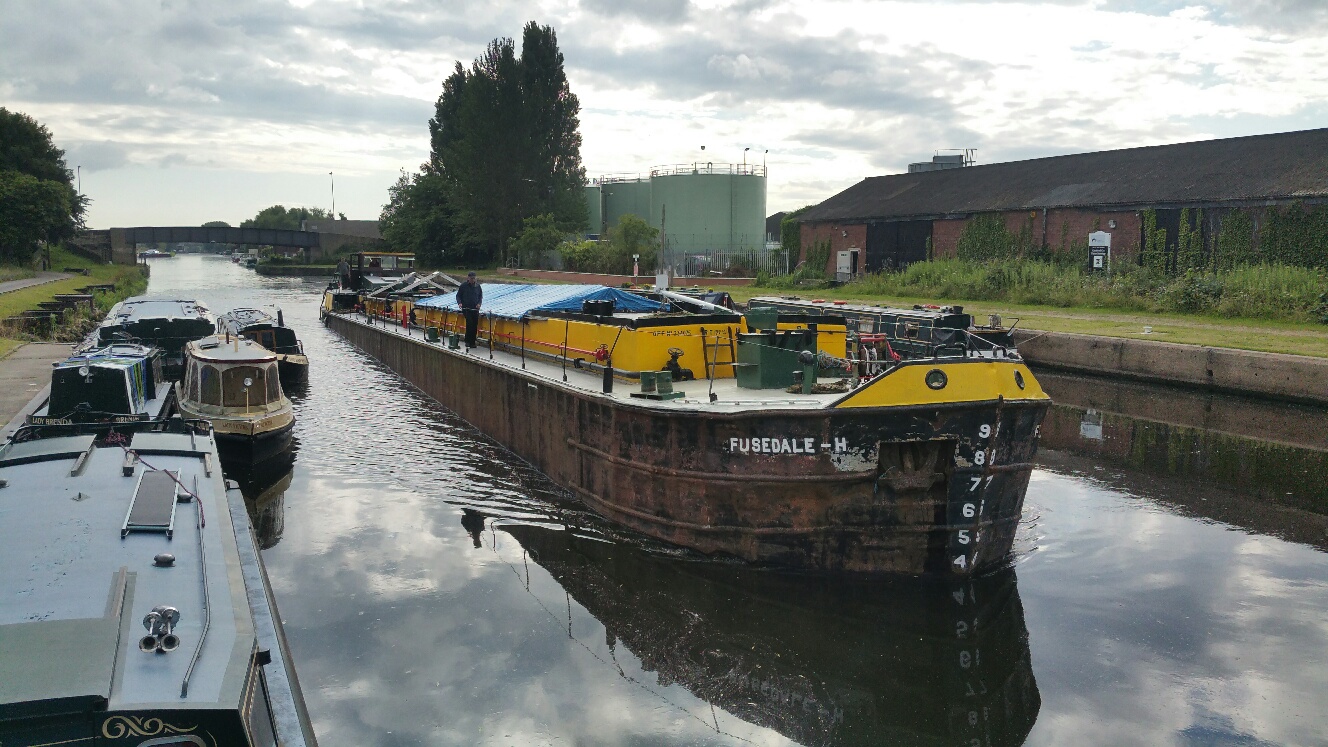 Fusedale passing through Castleford, courtesy David Lowe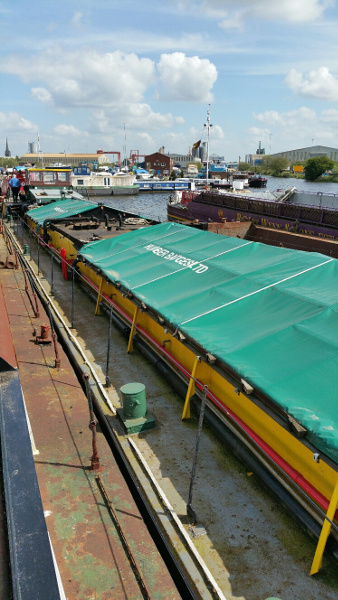 Fusedale covers, courtesy David Lowe
Fusedale visits Leeds
In 2016, we were invited again to attend the Leeds Waterfront Festival where Fusedale was quite an attraction, moored at Thwaite Mill opposite the museum. This was also a test run for our overhauled engine, and for navigation depth as we have not been to Leeds for some time. Dredging is required at a couple of spots but the Canal & River Trust already has this planned.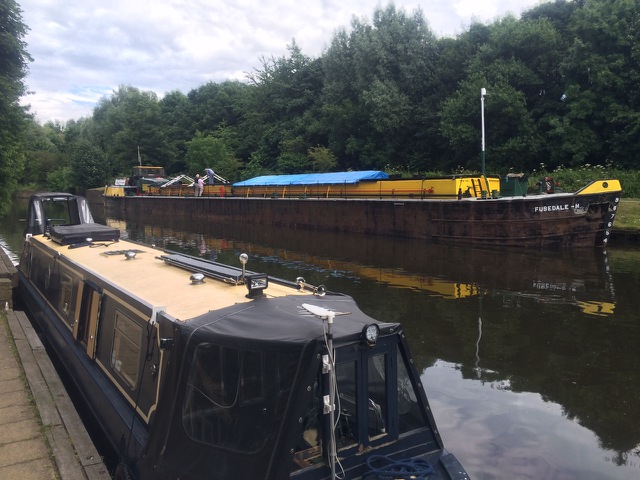 Fusedale moored at Thwaite Mill, Leeds, courtesy Mark Penny
Humber Barges Ltd welcomes the new Canal & River Trust Freight Policy
The Canal & River Trust, formed in 2014, has taken over the waterways formerly administered by British Waterways. The Trust has a contract with government with funding to operate and maintain its inland waterways for the benefit of the public but as a charity the Trust is able to secure additional monies to enhance the system and to act without the constraints formerly placed on BW.
Thus the Charity wasted no time in reviewing its operations and policies and as part of this exercise set up a Freight Advisory Group which is headed by Dr David Quarmby CBE. This group (of which our Director David Lowe is a member) has recommended that three of the Trust's north eastern waterways, the Aire & Calder Navigation, the South Yorkshire Navigation and the River Ouse, be designated Priority Freight Routes – those which appear to the group to have the most potential for the carriage freight. (This does not preclude continued or new carriage of freight on the Trust's other waterways). A Steering Group (which also includes David Lowe), chaired by CRT Property and Enterprise Director Stuart Mills, has been tasked with promoting these waterways by working with the port industry, shippers, barge operators, planners and other interested parties, and in particular take forward the concept of an inland terminal or port in Leeds for handling marine aggregate, waste, general cargoes, and possibly containers, and examine waterway enhancements that would enable larger payloads to be carried.
Humber Barges Ltd Director David Lowe said 'This is an exciting time to be involved with inland waterway freight, especially in Humberside and Yorkshire, and we in Humber Barges Ltd hope to play our part in helping to promote, and deliver a new barge service from the Humber ports and wharves to South, West and North Yorkshire'.
FUSEDALE H attends Leeds on Water Festival 2013.
The Commercial Boat Operators Association was once again asked by organisers the Inland Waterways Association, the Canal and River Trust, Thwaite Mill and Aire Action Leeds to provide a freight barge for display at the annual Leeds on Water Festival over the weekend 29th and 30th June. Member company Humber Barges Ltd was pleased to support the event by sending the 450 tonne craft 'Fusedale H' up to the Thwaite Mill site, Stourton, Leeds after discharging gravel at Whitwood. She was an impressive sight and prompted many comments from visitors although the mooring, this year, did not allow the vessel to get close enough to the bank to allow members of the public to board. We are grateful to owners of private pleasure craft for assistance with turning and mooring and for their general interest and support. CBOA also had its new 'pop up' banner on display detailing the many aspects of CBOA's work, along with a large banner on the vessel itself. Many thanks to skipper of 'Fusedale H' Chris Oatway. Photo: Mike Tucknott.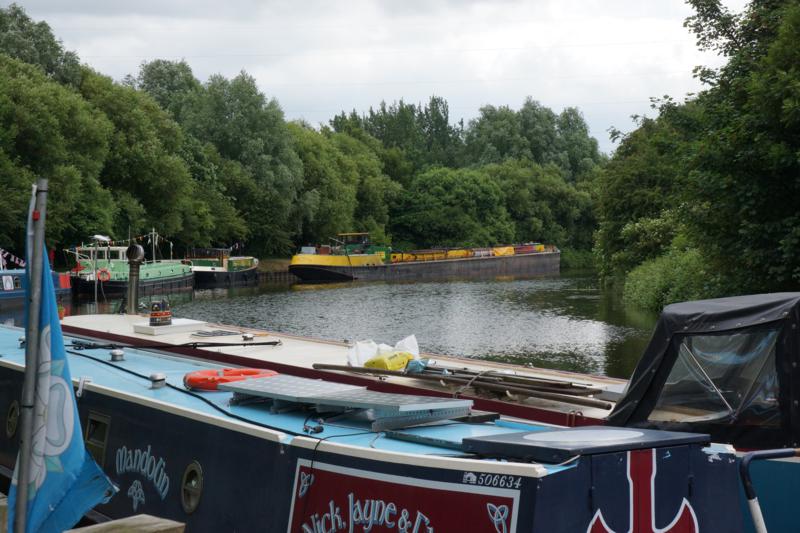 FUSEDALE DOCKING
As part of its maintenance cycle 'Fusedale H' travelled to Hull in May 2013 for its five yearly docking and refurbishment which was carried out by Dunstan Ship Repairs at William Wright Dock. A&E Woodward enlarged the propeller so that 'Fusedale' has an extra turn of speed, but at lower engine revs, and now uses less fuel. Enhancement work carried out by Dunstans will enable up to 50 tonnes of additional cargo to be carried. Photo: Malcolm Slater.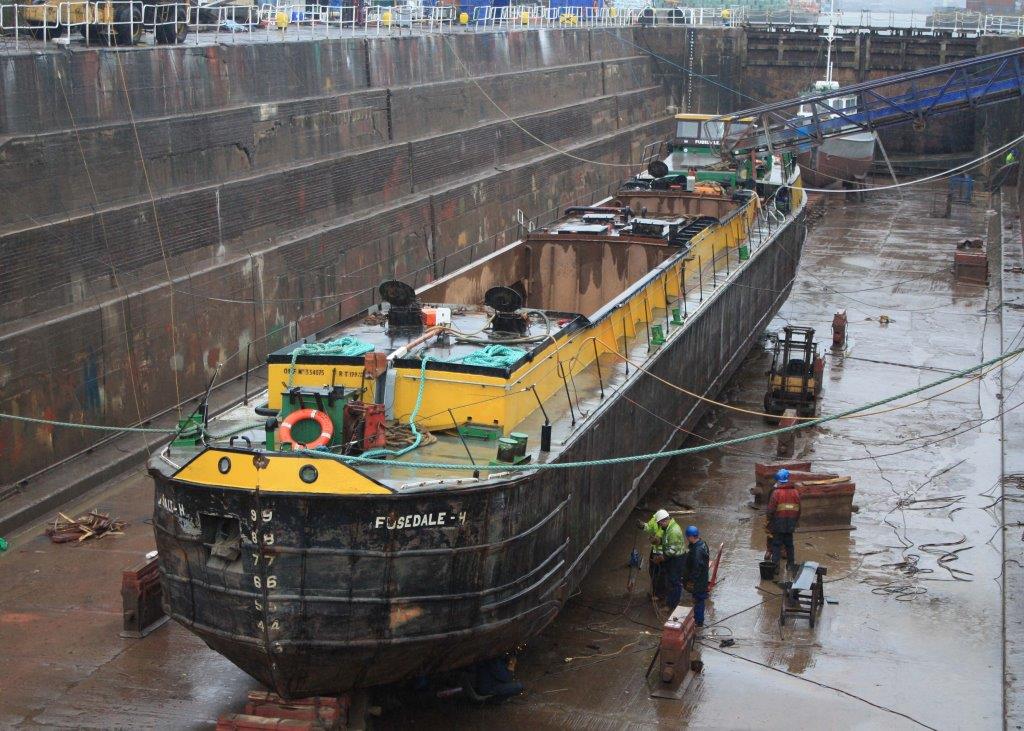 Movers and Leavers
We regret to announce that Geoff Wheat passed away in January 2013. A tribute appeared in Waterways World and here.
Also, Geoff's mate, and recently appointed captain of Fusedale H, John Chesher, is leaving us to join Lafarge-Tarmac as captain of 'Battlestone'. We send him our good wishes and thanks for all he has done.
Canal & River Trust
British Waterways, the navigation authority for many (but not all) UK inland waterways became a charitable body in 2012 under the name The Canal & River Trust (with Scottish Canals going to an independent body) . Directors of Humber Barges Ltd have been working with the CRT to help determine a freight policy for the CRT Commercial Waterways. HBL's Traffic Consultant David Lowe is a member of the CRT North east Partnership Board as well as serving on the Freight Advisory Group.
Leeds Wharves
Humber Barges personnel worked, during 2012, with the Commercial Boat Operators Association and Leeds City Council planners in respect of its Minerals and Waste policy, especially with regard to the protection of the remaining wharves in Leeds. We are delighted that the Inspector has upheld the Policy as 'sound', and important wharves remain protected for five years for handling minerals, waste, and, of course, general cargoes.
Link to the 2013 Newsletter: http://www.cboa.org.uk/downloads/newsletter-12.pdf

Craft Refurbishments
Ex-tanker 'Humber Enterprise' is being gradually totally refurbished and converted into a 480 tonne dry cargo vessel at Goole. This long-term project is being managed by our Technical Director Dave Ashford who is carrying out the majority of the work on the vessel's engines etc. Steel work and fabrication is being undertaken by JNJ Malone Ship and Barge Repairs of Goole. Marine architect and surveyor Nigel Ling is providing independent advice and verification.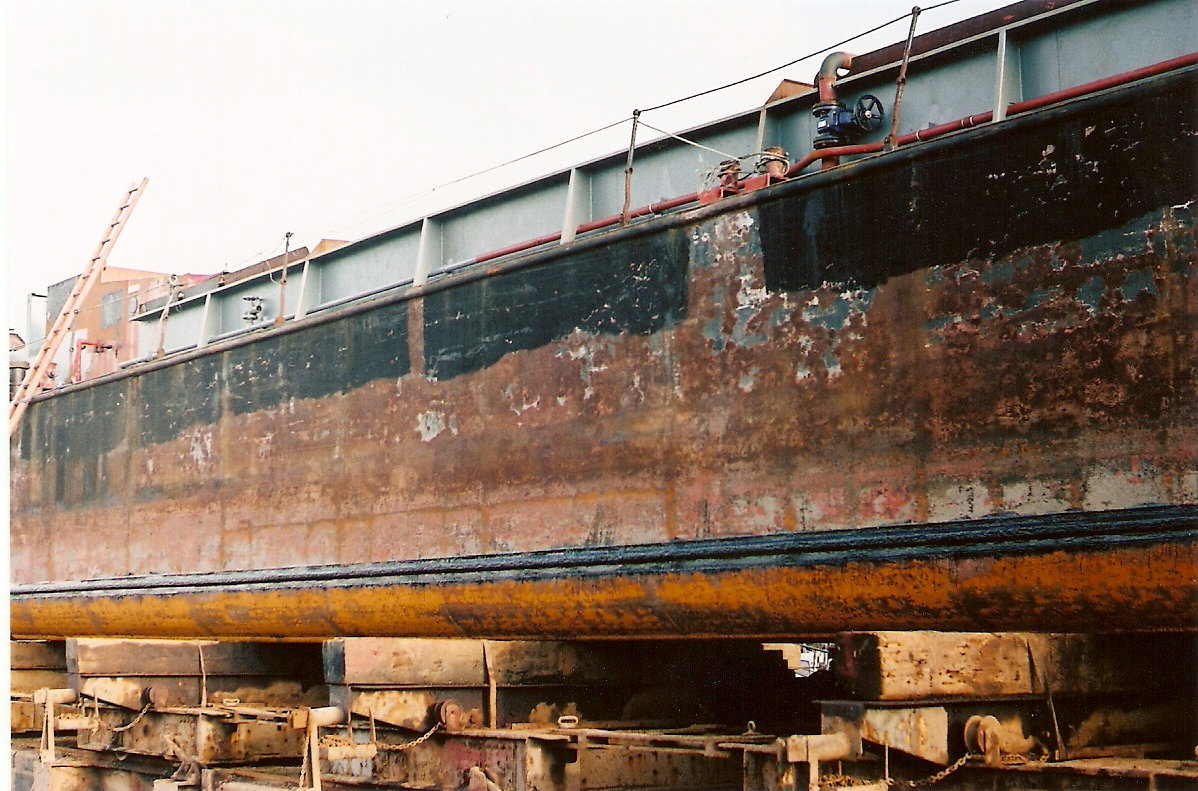 (Above) Photo of the Humber Enterprise on the slipway with work being done to the hull.
Refurbishment work continues, including rebuilding of the Kelvin T8 engine. A further T8 has been obtained for its parts to refurbish the original one. The remaining parts will then be used to make up a complete spare engine. The auxiliary and main engines were re-installed prior to moving Humber Enterprise to Immingham for docking and survey, and while on dock the opportunity will be taken to carry out any hull repairs required.
Unfortunately, the project was delayed when we had to spend £40,000 cleaning out the tar and oil from the vessel owing to a small leak into the dock water at Goole. The project will be completed as soon as circumstances allow.
| | |
| --- | --- |
| General view of the Kelvin T8 engine. | The other side of the engine with Dave Ashford working on it. |
| Fitting the piston rings and refitting the pistons to the engine. | New liners installed and the pistons cleaned up and refitted. The refurbishment takes shape and the engine is almost ready for reinstallation. |
| General view of the Humber Enterprise in early October 2008. | HBL's Owen Morgan with needle gun is doing a great job preparing the steelwork for re-painting, which he is also carrying out. |
| John Malone working in the engine room. | John (senior) and Jonathan Malone welding the side deck |
| Malone's crane, and also the main engine (under covers) and the auxiliary engine waiting to be re-installed. | Coamings have been needle-gunned and primed ready for the yellow top coat! |

Previous pictures, from the start of the project in July 2008:

Dave Ashford checks over the auxiliary diesel engine prior to a trial running on the dockside.
This unit will be completely overhauled.

A look into the spacious engine room. This will be thoroughly cleaned and prepared ready to accommodate a reconditioned Kelvin T8 diesel engine of 240 hp.

Aft tanks have been removed to provide a hold, nearing completion.


Similarly a larger forward hold has been created. [It might be possible at a later stage to remove additional tanks to enable full tonnage of less dense cargoes, or long loads like steel to be carried, but this will require modifications to provide the strength and rigidity required.]

Looking aft from the forward tanks (still in situ). Clearly there is much still to be done - including wheelhouse, new steering system, and crew accommodation, plus a full repaint and signwriting!

A general view of the craft from the stern.
---
Contact Us
For more information on any aspect of Humber Barges please contact us on:
Telephone:

Christine Oatway, Managing Director: 0757 2847006 (24 hrs)
David Lowe, Director: 07785 502478 (24 hrs)
Gerald Whiteley, Director: 01282 812456


Email:
Humber Barges
Humber Barges Ltd:
95 Denby Dale Road, Wakefield, WF2 8DJ
---